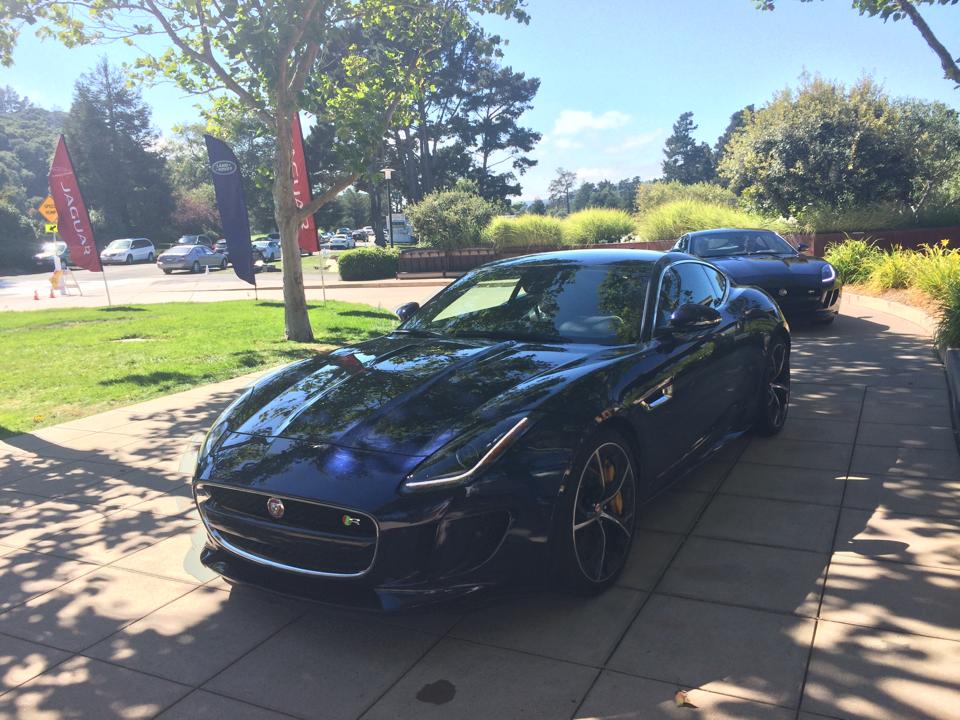 I had the incredible opportunity to test drive a Jaguar F-Type Coupe R in Carmel, CA yesterday. Oh my, where do I start with this one..
The first thing you notice when stepping into this beast is how luxurious it is. Ok there's no treated wood from a thousand year old maple tree that was recently found at the bottom of Lake Tahoe or acres of alcantara. What you do get is a cabin festooned of fine leather and high quality composites. Very nice; nicer cabin compared to numerous Ferraris I have sat in.
Right, foot on the brake, hit the engine start button and up fires the 550hp, 5 liter supercharged V8 with a growl. The second thing you notice about this car comes shortly after pulling out; stepping on the brake. I've never driven a car with a brake pedal as sensitive as the F-Type. It's a little strange at first but eventually you get the hang of it.
Before pulling onto the main road my Jaguar test drive representative told me to turn off the active exhaust to show me just how quiet this car is with it not activated. Amazingly the car was nearly silent while driving down the road. But then I thought to myself, I'm in a supercharged V8 Jag, so I turned the active exhaust back on right before entering onto the main road. I got on, stopped, looked around then gunned it. Holy crap! Pinned hard back in my beautifully wrapped comfy leather chair while Mount Vesuvius was erupting behind me. Damn is this thing fast. Truly felt like the fastest car I have ever driven or ridden in.
Then came a small tunnel that was roughly 15' tall by 50' long. The sound was so loud my ears were ringing a bit after exiting.
The rest of the test drive was full of neck breaking accelerations and unnecessary downshifts. The gearbox was amazing. It's not a dual clutch but the shifts were just as fast and as smooth as one.
Pulling into the golf course where the test drive event was held was also an interesting experience. The entrance of the course was nearly a mile away from where the event was held. Even below 30 miles an hour in second gear at nearly 2000 revs the exhaust was crackling profusely, making me grin like a village idiot all the way back.
I stepped out in shock at this magnificent machine saying to myself this is the one. I have fallen deeply in love with this thing. My test drive was during Car Week in Monterey and during my 25 minute drive I passed a LaFerrari, 918, Veyron Vitesse and countless Ferraris, Lambos, and Porsches; but none of that mattered. I didn't care. I was in a total state of bliss. The Jaguar F-Type Coupe R is my idea of the perfect car. Is it everyone's cup of tea? No, but one test drive might make a skeptical chap a believer.